Advantages of polyester fabric
Fast and durable, anti-wrinkle and non-ironing, no deformation, strong thermoplasticity, no fear of mold, no fear of insects. The lack of zhuan is that it has poor moisture absorption, and it has a sense of stuffiness when worn in summer. At the same time, it is easy to be charged with static electricity in winter, which affects comfort.
Super elastic. The elasticity is close to that of wool. When it stretches 5% to 6%, it can almost fully recover. Repeatedly rubbing the polyester fabric will quickly restore its original shape without leaving wrinkles. The modulus of elasticity is 22~141cN/dtex, which is more than Nylon is 2 to 3 times higher than other fabrics. Polyester fabric has good heat resistance and strong plasticity.
Easily deformed and wrinkled, it is more suitable for sofas, dining chairs and other places in the home. The surface of the fabric is lubricated, with strong luster, high breaking strength and good air permeability. It is often used as a summer fabric.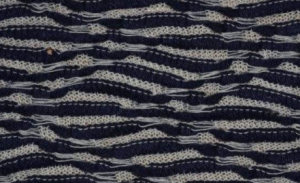 Polyester fabric has poor hygroscopicity and poor dyeability. Because there is no specific dyeing gene on the molecular chain of polyester, and its polarity is small, it is difficult to dye and has poor dyeability. Dye molecules are not easy to enter the fiber, but the color after dyeing is fast. The degree is very good and does not fade easily. To
The difference between nylon and polyester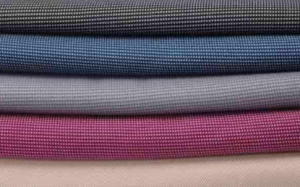 1. Stability
Polyester fabric is not easy to wrinkle, and is stiff, has good dimensional stability, and has good shape retention; polyamide has poor shape retention, without polyester stiffness, and is easy to deform;
2. Heat resistance
The melting point of polyester is 260°C, and the ironing temperature can be 180°C; the heat resistance of nylon is not good enough, the ironing temperature should be controlled below 140°C, and the low temperature resistance is good;
3. Feeling
Nylon weaving has a smoother hand and a higher surface gloss. There are more clothing materials in sportswear, swimwear, fitness clothing, and socks;
4. Performance
Nylon has high strength, good elastic recovery ability, excellent abrasion resistance, moisture absorption and dyeability are better than polyester;
5. Chemical
Polyester is resistant to sunlight, acid but not alkali. Nylon is alkali-resistant but not acid-resistant, and has poor light resistance. When exposed to sunlight for a long time, the fiber strength will decrease and the color will turn yellow.